3D Virtual Tour Features
Share them anywhere from website to social media without download app.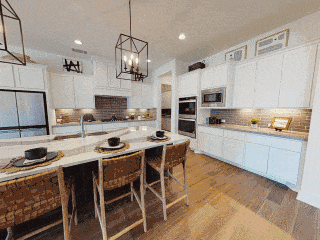 3D Dollhouse
Complete 3D overview of the layout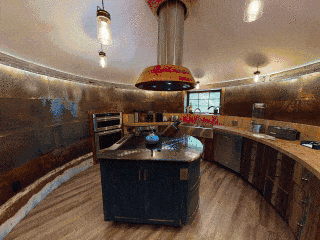 3D House Tour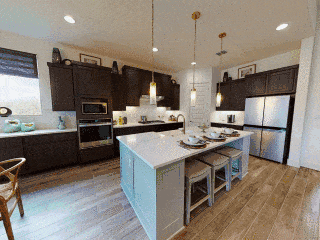 Media Tag Annotations
Leave photos + videos annotations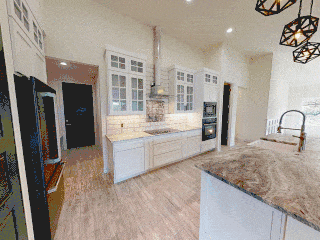 Floorplans & CAD
As-built print ready floorplans!
Matterport's 3D scan tour service is a platform that allows create quickly scan "lidar alike" survey, immersive, interactive 3D tours of properties or spaces. These 3D tours can be viewed on a computer or mobile device wihtout download special apps and they give viewers a sense of what it would be like to physically walk through the space, including easy way to take measurements with great accuracy for furniture or planning.
The service of 3D scan with Matterport is relatively simple:
Once the camera is set up in the space, it will quickly take a series of images and survey scans, which will then be uploaded to the Matterport platform.
Once data is uploaded, Matterport's software will automatically stitch them together to create a seamless, 3D model survey of the space. Businesses can then use the Matterport platform to add information and annotations to the tour, such as labels or hotspots that provide more information about specific features of the space.
Benefits
One of the key benefits of Matterport's 3D tour service is that it allows businesses to showcase their properties or spaces in a way that is much more engaging and immersive than traditional photos or videos. Viewers can explore the space in detail, and the 3D scanning and modeling gives them a sense of what it would be like to physically be there.
Another benefit of Matterport's 3D tour service is that the accuracy of survey and measurement is less than <1%, the budget price for the quick solution for digital preservation is a time-saving technology, it is highly interactive. Viewers can move through the space at their own pace, and they can zoom in and out to get a closer look at specific features.
The measurement is only possible in matterport service and NOT possible within the google street view update service.
Features
Matterport's scan service also has a variety of features that can help businesses to better promote their properties or spaces. For example, businesses can use the Matterport platform to create a virtual walkthrough of their space, which can be embedded on their website or shared on social media. They can also use the platform to create a detail survey, scan of floor of the space, which can be useful for planning and design purposes.
In addition, Matterport's 3D tour service is compatible with virtual reality (VR) and augmented reality (AR) devices, which can enhance the immersive experience of the tours. Businesses can use VR or AR to let viewers experience their space in a more realistic way and make it more engaging.
Overall, Matterport's 3D home tour service is a powerful tool for scan properties and cultural heirage assets that want to digital preservation or showcase their properties or spaces in a more engaging and immersive way. With its high-resolution images and scans, interactive features, and compatibility with VR and AR devices, it provides a unique way for businesses to promote their properties and spaces to potential customers.
In conclusion, Matterport's virtual tour service is a powerful tool for businesses that want to showcase their properties or spaces in a more engaging and immersive way. With its high-resolution images and scans, interactive features, and compatibility with VR and AR devices, it provides a unique way for businesses to promote their properties and spaces to potential customers. It's a perfect solution for Real Estate.
Easy 3D scan survey
Generate 3D virtual tours, 4K print quality photos, as-built schematic floor plans, guided and video tours, fast measurement to time-saving processes.
Share your matterport scan on social media sites easily, Facebook, Instagram, and YouTube, without any special app.
Embed your 3D home tour on your website.
Publish to Google Street View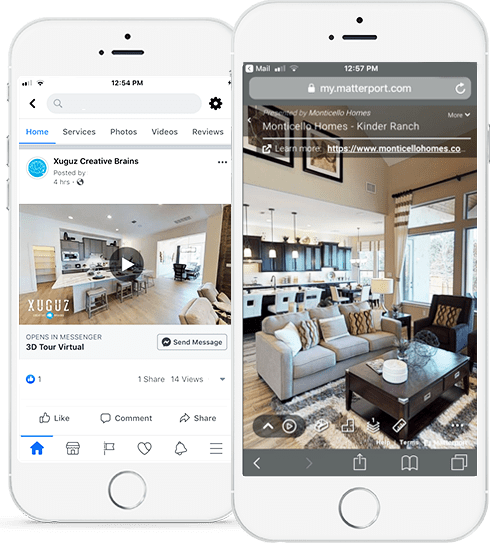 Give us a call (877-394-1941) or use our online contact form!  We will answer any questions that you may have concerning the home, business or space that you would like captured.
We'll arrange a time that fits your schedule and discuss the best way for us to access your space.
A team member will arrive at the agreed upon time and quickly review the space before beginning the capture process.
We capture spaces at about 1,500 SQFT per hour using  Method Scanning – a process that provides consistent navigation and a superior product.  We may take a little bit longer on site than others to ensure a quality product.
When the 3D survey scan is done, all collected data is processed.  This can take up to 24 hours depending on the size of the space.
When the tour is ready, we add your contact information, and add thumbnail navigation.  If your ordered a floorplan, we then start processing for the plan with delivery within 36 hours.
You'll receive a notification from us when your 3D virtual tour scan is ready along with a link that you can use to embed the tour in your website and share it to social media.
We also provide an MLS-compliant version if you are a Realtor and would like to use your tour on the MLS.
We can also provide a special version of your tour with your headshot or company logo, a mini map and other features powered by MPEmbed.com, which was developed by us to add new features to tours.
We'll follow-up with you to make sure that you were satisfied with your Matterport scan service and send a payment request for services rendered or any other survey scan needs.
We're always happy to answer any questions you have and interested in digital preservation of new kind of spaces.
Payment is due on satisfaction!
Take Measurements of your space
Matterport 3D virtual tours is also a survey that let users to take measurements from the mobile without any special app in showcase mode of your space. Measure the dimensions of objects and rooms easily.
Benefits
Measurement mode offers lots of benefits, including:
Mobile and tablet support.
super easy intelligent snapping to corners and edges, and to existing measurements.
Intelligent axis snapping to vertical and horizontal axes.
A scope you can use for improved measurement accuracy (which is <1% for long rooms of 10 ft.), for more detail info of tolerances click here.
Easy creation of continuous measurements, and measurements with multiple connected lines.
Matterport's 3D tour scan uses laser scanning (similar but not equal to LiDAR) to create detailed, accurate 3D models of real-world spaces, which can be used for a variety of applications, one of its best features is versatility as it can be used to survey and map both indoor and outdoor spaces
Indoors: It can be used to survey dangerous or hard-to-reach areas, such as warehouses, buildings, or industrial sites, natural landscapes, historical landmarks without putting human surveyors at risk while taking measurements.
Outdoors: Sometimes you might want to have aligned outside scans. For example, a path to a detached garage, shed, guest house, or outside unit. You might even want to scan a playground, museums or park.
Scanning outside in the sun is only possible with LiDAR scans available only with the Pro3. Pro and Pro2 uses infrared scanning which can present issues in direct sunlight causing alignment issues with the models but works great for low light conditions as caves.

Outdoor 3d virtual tours can be used in natural landscapes, caverns, mining, underground facilities, research facilities and archeological/historical sites that needs digital preservation of cultural heritage as unique opportunity for digital twin (as-built) of the material object in standard quality over time that would enable the continued use and appreciation of its cultural value for future generations.
Now it's your turn
We'd love to have you on our schedule! Request a booking by sending us a message or just to request more information.
We provide complete solutions for your company, helping you reach your goals with innovative marketing strategies.