Stand out to sellers. Captivate home shoppers.
The only virtual tour platform that displays prominently within a Zillow Residential Real Estate Listing.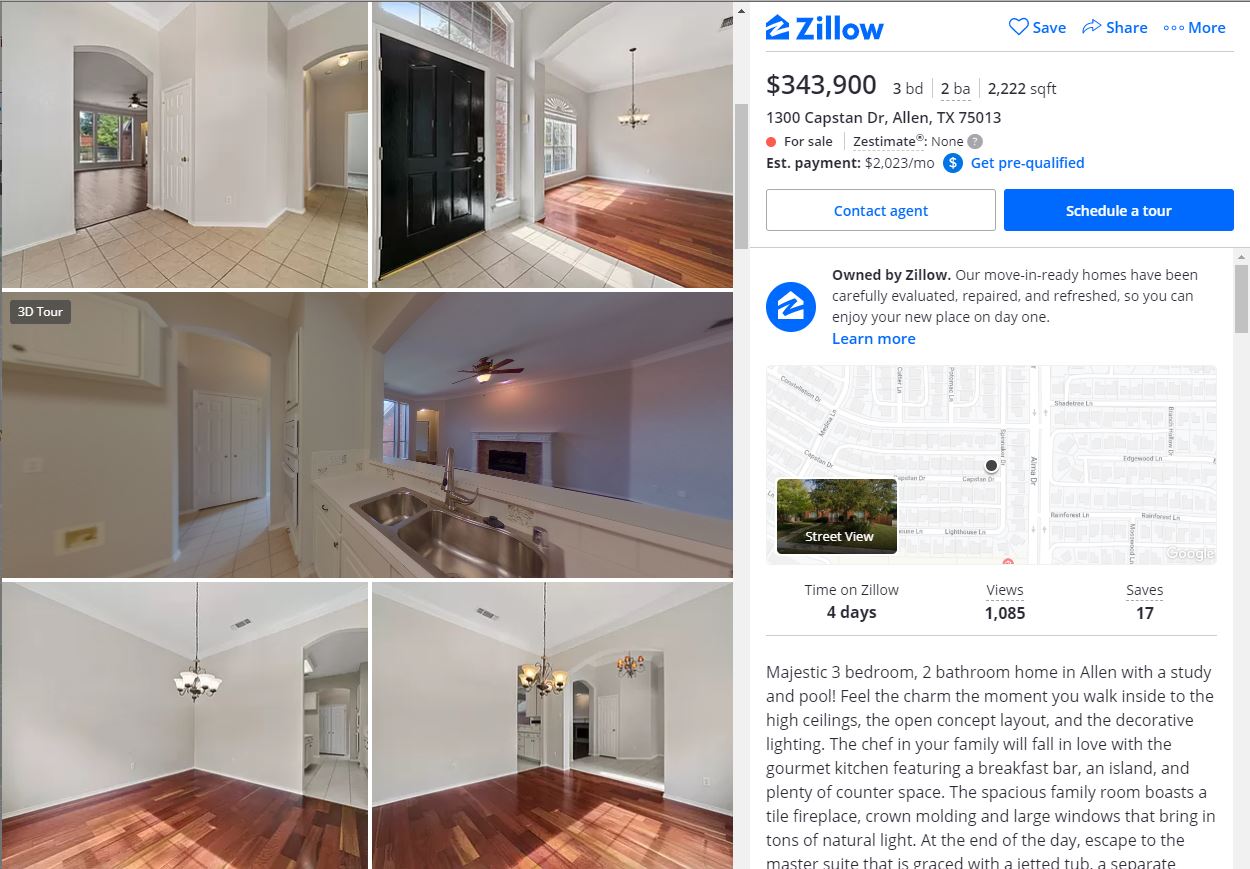 Your tour will be instantly added to your listing's photo gallery on Zillow.
With the share link, it can be embedded on a website or shared on social media.
Why Zillow 3D Home?
Get noticed. Zillow listings with a 3D Home tour are labeled with a unique tag that helps them stand out from standard listings.
Boost your business. Give listings a more engaging presentation to help attract more buyers and sellers.
Make Your Zillow Listing Better.
Enrich the home-search experience. Offer home shoppers a clearer understanding of a home's features and layout.
A Virtual Tour in the Gallery.  Zillow 3D Home is the only virtual tour platform that displays within the photo gallery on a Zillow listing.
We are Zillow Certified
With over 350 Zillow 3D Homes published since May 2019, we're the top Zillow Certified Photography team in North Texas!

Zillow 3D Home Tours are published instantly.  Photos are delivered within 24 hours from capture.
"Lot for Sale" Walkthrough
$149
See examples in our gallery bellow!
$149
Or add to any other service
$99
$99
Small Home / Condo Photos
$149
$149
Or add to any other service for just $99!
$149
2,000 SQFT  & 24 Photos (Save $59!)
$329
3,500 SQFT & 36 Photos (Save $89!)
$379
5,000 SQFT & 36 Photos (Save $139!)
$429
We provide services to Bexar, Travis, Comal, Hays, Dallas, Harris, Collin, Denton and Tarrant Counties.
Outside of these counties, the travel fee is $0.25 per mile traveled after the first 50 miles.
Free hosting for 12 months.
$36 per year after the first year.
Example #1 - Residential Full Media Package with Aerial Photos

Now it's your turn
We'd love to have you on our schedule! Request a booking by sending us a message. Or just say hi!
We provide complete solutions for your company, helping you reach your goals with innovative marketing strategies.